1)      Have an eCommerce plan
Know what you want to venture into.
You should have a plan of what you are interested in selling. You should be very sure if it is going to be a specific product or a variety of products.
Research your chosen product
If you are familiar with the product/service you are in a better position to know its performance. However, since you want to venture into an online market;
Know your competitors
How are they fairing?
What strategies are they using?
Reviews from customers who acquire the products?
Is that field too crowded? If so try another product if you have never engaged in selling such products before.
Then go on, take a risk.
Know how your business will operate.
If you are a manufacturing company, then that means you have the products with you. However, there is an option of importing products from other areas and establishing your own store. Plan on the prices of the products, discounts, and special offers, and be quick to replace out-of-stock items. It is also very vital to know the payment methods that will be used and the shipping/delivery of the items.
Plan on how you will secure your online store.
Cyber crimes have been on an increase and this is why it has become very necessary to have secure transactions free from insecurities. If the store is secure, it will make customers feel confident during transactions.
Focus on your target market.
The main goal of each business is to solve and satisfy customers' needs. Moreover, if you do enough research and know what your competitors are doing, you can think of something new to integrate into your business to make sure it goes a further step. Using Google Adwords Keyword Tool you can get an overview of what most people search for and this will help you know the current trends. You will know what is in demand and what is not.
Make a decision on your business information
Business information includes;
The store name
The company name
The company's bank account
Responsible personnel's
Something very vital to keep in mind is to set up the business professionally as a legal company to avoid any inconveniences in the future.
Make a decision on your eCommerce store policies.
It is important to have business policies. This may include
Deciding on days a customer is granted to return an unwanted item/spoiled item
What will be the shipping price (applies to imported items)
Every item's warranty period
Procedure for replacement of items
Have an inventory for the stock availability and when unavailable let it be known.
If it is a classified ad website, decide on whether the seller and the buyer will be in contact.
It is necessary to make sure the policies are easily accessible and can be seen by everyone.
2)    Setting up process
Choose a domain name and hosting
It is necessary to choose a domain name that is easy to spell out, If you complicate the domain name, customers will not easily find it. Common names that express a store are advisable to use.
You can manage your own website hosting or choose a convenient web hosting agency to do that for you. If you have knowledge of hosting, it is better to manage your own hosting and you will have full control of all the activities. Make sure you have a lot of space because online stores require a lot of capacity due to their various functionalities. Moreover, having enough space prevents your website from paralyzing when the traffic increases and it will be much faster.
The online store should have a forum where customers can talk to the buyers either via email or phone calls. It is important to have a public phone number and if it is the "chat with us" call to action button, make sure there is online personnel, and if offline let it also be known. Choose what suits your business best, for prosperity purposes.
Choose where to store your inventory
If you'll be purchasing stock for your store, make sure you have a proper place to store your inventory such as a warehouse. When choosing the storage space take into account that as time goes by your business might grow and you will need more space. Moreover, make sure the space is convenient enough for future purposes.
Have a business bank account and merchant account
In every business never rely on storing your finances on your personal account, make sure you have a separate business account. The benefit of this is that you will manage to tame the usage of your money. It is necessary to have a business account because of tax and accounting reasons. In most places to accept credit card payments as an eCommerce website, you will need a merchant account for processing purposes in the transactions.
Decide on whether you will engage in drop shipping or not
There are instances in which businesses don't like storing too much stock. This is to prevent having too many items which in the long run will just end up getting outdated or spoiling. Thus, drop shipping entails; when a customer orders an item, as the channel, the business orders from the third party and directly send to the buyer. This is normally done after an agreement to prevent inconveniences when the item is not available.
Choose your prices range wisely.
The sales you make should benefit the business and return back the money used for expenses of shipping, delivery, and marketing. However, the prices should be friendly and logical enough for each item. Make sure the business sells high-quality items so that the customers can feel the worthiness of their purchase.
3)    The website details
The website stands as the storefront, for this reason; it should be attractive and have a simple layout. The contact details, store policies, check-in, check out and shopping cart icons should be easy to see. All the details should be visible and easy to access and if there is a review option make sure customers can also access that page. The theme color of the store should also go hand in hand with the products you want to sell.
Choose the software platform to use on your website
It is advisable to use a Content Management System (CMS). The benefit of a CMS is that after the web designer establishes an online store for your business, you can take control of the website. It is easy to edit/update content and products with a CMS platform. The web designer can train you on the various functionalities of the website and from there you can be in charge. There are various eCommerce CMS platforms available; Magento, Prestashop, Osclass, Tomartocart, open cart, and many others. They are very easy to operate as they have inbuilt functionalities meant for eCommerce websites. The website should be responsive because many people tend to access the internet using both small and large devices.
Write your product description
The more details you avail about products, the more sales you will make. If there is a review section the better. In this way, customers will weigh the options and see if the product is worth buying. The more effort you place in your store increases the possibility of your business succeeding. Have informative descriptions and explain the usage of the item for better clarification. Having images, descriptions, comparisons and reviews for each item is necessary.
Acquire an SSl Certificate
An SSL Certificate is important for security purposes; it reduces the possibility of third-party criminals and encrypts parts of the website that collect personal information. It is necessary for an eCommerce store because of the transactions normally made. Sensitive credit card information will be secure and will remain with the customer only.
The privacy policy should indicate what the business will do or not do with the personal details acquired from the customers. Many people are cautious about the details they avail in the internet because of the increase in cybercrimes and fraudsters. In order to increase the good customer and seller's relationship, it is not advisable to sell your customer's personal information.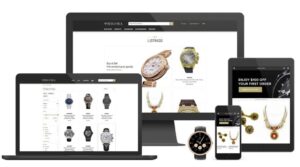 Decide on your marketing strategies
It is necessary to have a good marketing plan. Visitors can't easily guess about your website and come to view it. You need to expose the website and make it public on social media sites, by telling people about it. This exposure will increase the number of visitors to your site each time. Ensure the site is optimized so that it ranks higher in search engines.
Search Engine Optimization is a long-term strategy and PPC is a cost-effective method that increases traffic for new businesses. You can also try Pay per click advertising that allows your business to appear at the top of the search engines for relevant keywords. Each time a visitor visits your website through that ad, you are charged a fee for that visitor.
Website analytics are effective for website management. Web analytic programs allow one to monitor how visitors use your site, the pages they view, the time they spend on your website, and the products that are most likely to sell because of the viewing intervals. During the launch of your store ensure that your analytics tracker is in place by installing the tracking code.
4)    Managing your sales
Decide on the payment methods to use
You need to decide whether cash or credit cards, bank cheques, purchase orders, voucher numbers, and wire transfers are the ones that will be used during purchase. Explain the payment options available so that a customer can choose the most suitable option. Moreover, be cautious about the transaction methods.
Know how to handle international orders
International orders are more expensive than local orders, thus ensuring there are additional costs for shipping and any other expenses. This should be clearly indicated in the store's policies. There are also limitations in other countries for goods that can be imported and exported, thus ensuring it is outlined in the policies for clarification.
Pre-sale information on your eCommerce website
Have a document that has pre-sale information, Frequently Asked Questions (FAQ), and their answers. Many customers often have some questions before they make any purchase. Some of the questions may include; shipping queries, payment details, stock availability, purchase warranty, and business credibility. A documentation and customer service option are a must-have for any online business.
Know how to handle your customers
In case of inquiries, delays in delivery, or returned items make sure you handle the customers in a friendly way. The customer service personnel should have a kind heart and know how to manage their anger. Customers hate rudeness when they want to enquire about something.
Lastly, start your store, I hope you found this helpful. Looking forward to seeing your store up and running very soon. Be cautious of the steps you take. Start now, but remember Plan first. We can help you achieve this, talk to us.