WordPress is among the best content management system to use. It is simple and easy to install and start using. If you already have a hosting plan, just access the Cpanel then install WordPress through softaculous. It will be installed directly and will be easy to navigate from there. You can access the dashboard through https://example.com/wp-admin and enter the Username and Password you used during the installation.
Alternatively, download WordPress from the official site and install it on your local device. If you have WAMP or xxamp, install in the wamp/www folder or htdocs folder respectively. You may then access your website through localhost/example after the installation is over.
WordPress Dashboard
In the main homepage of the dashboard, it gives an overview of links to use to customize your site.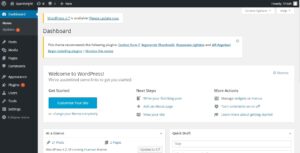 Posts
Add new: In the post's section is where you can publish and update content for the site.
You can either decide to publish it immediately or save it as a draft.
Go ahead to choose its format, category, and tags for the specific article.
Categories: This is the section where you can create categories to place the posts.
Tags: You can create tags for your site in this section and set their visibility.
Media
You can add media to use on your site in this link.
Either drag or upload media from your device.
Pages
Add new: This link enables you to add as many pages as you want for your website.
For instance: home, about us, contact us, what we do, etc. with no limitations.
You can then set it to either be a menu item or submenu item in the page attributes.
Choose if it should be published immediately or later on and also add a featured image.
All pages: In this section, you can view all your pages and update/edit them.
Comments
You can add a comment to your site from this section and enable or disable its visibility.
When your visitors leave a comment you can view it from here and decide which ones will be visible to the public.
Appearance
Customize the general appearance of your site from this section.
Themes
Add new: Enables you to upload a theme or choose from featured, popular, and latest themes.
Customize:  The site name, colors, header image, background image, widget, and static home page are changed from here.
The site name is the name that appears at the top of your website.
Change your theme color from here.
Header Image is the picture that appears in the header section and should blend well with the site's colors.
The background image appears at the back of the website and doesn't interfere with the main sections of the website. The background image should not steal away the attention of the main page.
The widget is a small application that is normally placed on a web page to attain a certain function. It also adds information to the site. For instance: calendar, side menu.
The static homepage is the main/ front page of the site.
Menu
Create a menu to display your site's pages. You can then decide the pages that you want to be displayed in the menu bar. Thus, you need to do it manually to ensure all your posts or pages can be seen.
Plugins
These are ways to add and extend functionality to the site
Add new: You can decide to upload a new plugin from your device or from WordPress. For instance; woo commerce – to add a shopping cart to your website.
Decide to activate or deactivate a specific plugin.
Editor: Change the codes for the plugins from here.
Users
Add New: You can add a new administrator/user with the right to access the dashboard.
All users: You can view all the users and administrators with the right to access the dashboard.
Settings
General settings: In this link, you can change the site title, tagline, WordPress address, site address, email address, membership, new user default role, date, time, and the day the week starts.
Writing settings: You can change the mail settings that will enable you to post to WordPress.
Reading: You can change the display of your front page.
Discussion
Media: Settings of the uploaded files
Permalinks
I hope this was helpful and will help you be a step ahead when you start using WordPress.
If you need further solutions, talk to us.